Product Spotlight
Saddle Up Wallpaper Border by York
Cheerful equestrian scene including a fence lined with attractive black horses.Wallpaper Pattern #: RU8243B Pattern Name: Saddle Up Wallpaper Border Pattern Repeat: 24 IN.Border Height: 9 IN.Spool L...
$40.99

$37.95view details
Weekly Deal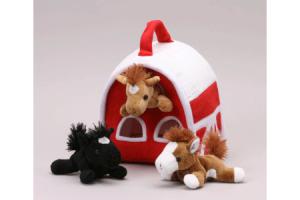 Red Barn with Pony Finger Puppets
A cozy home for horses! They enter through the barn door, which can then be closed with the hook and loop fasteners. The window can also be opened to give them a view of the paddock. 3 Horse Finger-...
$16.95view details
Most orders ship the next business day

You will receive your tracking number through email when your order ships
netEquestrian is an extensive equestrian community featuring horse gifts, horseback riding boots, horse blankets, and English horse tack for sale alongside free horse classifieds.
Horse Blankets - We've Got You Covered! Shop All Horse Blankets