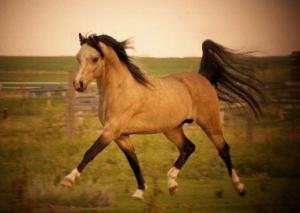 Mynach Mystical
Gorgeous 2002 Royal Welsh Champion, enthralling personality,and floating movement. Standing at stud for the first time to outside mares for the 2007 breeding season for on-farm breeding only.

Foal Year: 2002
Results: 2002 Royal Welsh Champion Wales UK
Common Traits Passed to Foals: Mystical passes his wonderful personality,inteligence and movement all in a rainbow of colors...
More Details: on-farm breeding only
one month free board for dry mare
$3.00 day wet
discounts for 3 or more mares
Limited Book
External Link: http://www.bluebirdponies.com
Horse Name: Mynach Mystical
Stud Fee: 850
Booking Fee: 300
Color: Dun
Height: 12.3
Stable: Bluebird Farm
Dicipline: Childrens/4-H
Dicipline: Halter
Dicipline: Jumper
Sire: Eyarth Beau Geste
Dam: Mynach Mimosa
Grand Sire: Bosten Bentick
Dam of Sire: Eyarth Zsa Zsa
Dam Sire: Moleview Mohawk
Dam of Dam: Mynach Mayflower
Price: $850
Contact Seller
*This website takes no responsibility for this listing or any interactions between buyers and sellers.*