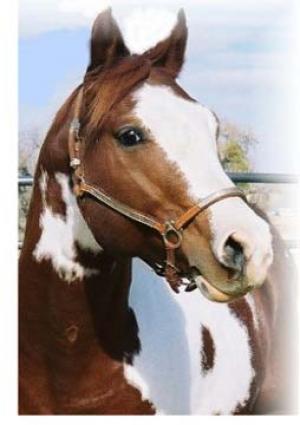 Watch Me Move
Watch Me Move -Double Reg. Chestnut/White Tobiano Paint Breeders Trust Stallion.
Stands 15.2, Weighs 1100 + .

He throws color on AQHA/ APHA Mares. Even throwing color on the TB mares. This year we are opening up his breedings to Welsh and Draft mare owners also.

His foals are excellent to train,handle, sellable, colored. With his versitile, he can go from the calm driving cart to the team penning with ease. Trailers with mares during breeding season no problem. He does pass on his temperment on all the foals. So if you are looking to add color / temperment / versiltie to your next foal give us a call. Watch for his 2003 colts/fillys who will be entering the Dressage/Hunter/Jumper Rings this year. Good Luck.



This Stallion is Not For Sale. We now have a couple of his offspring for sale. Quinton- Buckskin/Grulla colt, Black Welsh cross colt, check us out on our website at www.pineacrefarms.com or Call or email us today for any questions.

Excellent Pedigree
Temperment is great
Sweet color combination
Awesome Foal with color and Temperment
Foal Year: 1998
Common Traits Passed to Foals: Excellent Temperment, dish faces, can do any displine you could ask for.
More Details: Multi mare discounts if bred in the same season. We have cooled / frozen semen avail. with no chute fees.(Unless not settled on the first shipment). Shipping fees are on the mare owner.
Stud Fee is $ 650.00 which does include the $ 250.00 booking fee. We also offer a early booking price of $600.00 (If the Booking fee of 250.00 is paid before Feb. 1 of the breeding year).
External Link: http://www.pineacrefarms.com
Horse Name: Watch Me Move
Stud Fee: 650
Booking Fee: 250
Breed: Paint
Color: Chestnut
Height: 15.2
Stable: Pine Acre Farms
Dicipline: Driving
Dicipline: Endurance
Dicipline: Equitation
Dicipline: Halter
Dicipline: Pleasure/Trail
Sire: Skips Charmer
Dam: Scho Beauty
Grand Sire: Skip N Easy
Dam of Sire: Skips Charming
Dam Sire: Wait A Long Joe
Dam of Dam: Moore's Queen
Price: $650
Contact Seller
*This website takes no responsibility for this listing or any interactions between buyers and sellers.*