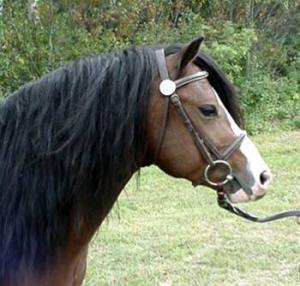 Galore's Splash Of Flash
Splash came to Ponies Galore! in June of 1999. With his presence and charisma, I just HAD TO have him! He is a flamboyant pony with good bone, ample substance, and excellent Welsh type and conformation. He has breathtaking movement and tremendous jumping ability. Splash has an extremely kind temperament and a very willing attitude.

Splash made his first public appearance at the 2001 Minnesota Horse Expo. He spent all three days greeting visitors over his stall guard and leting them arrange his forelock into a variety of different hair-dos. Other stallion owners that saw him were amazed that he had the patience
to put up with all the attention and never once thought to pin his ears or bite.

With just two shows in 2001, Splash ended up 2001 WPCSA North Central Region 4th Place in Section A Stallions. In his 2002 show debut, Splash was the Grand Champion Section A and the Reserve Supreme Champion of the Heart of Minnesota Welsh Show under Judge Marsha Himler, Stonecroft Welsh, of Stillwater, New York. At the 2002 Heart of Minnesota Welsh Classic, Splash won the Section A stallions class under both judges, Colleen Wing, Oakdale Stud, of Oakdale, California and Katy Hakes of Beloit, Wisconsin. He was also Reserve Grand Champion Section A under Judge Hakes and Grand Champion Section A and Supreme Champion under Judge Wing. In his first show of 2003, Splash won the Section A stallions class and the Grand Championships under both judges and was Lorali Casipit's Supreme Champion.

Splash began his under saddle career with a talented junior rider. Splash has proved to be extremely easy to work with and retains his training very well. He is naturally balanced and a true athlete.

Two time SUPREME CHAMPION!!!!!
Breathtaking movement and tremendous jumping ability
Extremely kind temperament and a very willing attitude
Dark bay, blaze and 4 stockings
Foal Year: 1997
Results: Splash's first foals, both fillies, arrived in 2001. Galore's Three Cheers, a Section B, and Galore's Sea of Roses, a Half Welsh, inhereited their sire's wonderful temperament, outgoing personality and Welsh type. At the 2002 Northwoods Welsh Pony and Cob Society Bagley Bronze Show, Rosie was the Reserve Grand Champion Half Welsh under judge Norman Kalinski of Canada and Grand Champion under judge Tessa Drevlow of Minnesota. Cheers has moved to Starrpony Farms in Melbourne, Florida, to become the foundation mare for new owners Holly and Roger Cartier.
Common Traits Passed to Foals: Splash passes his calm, cool temperament and movement on to his foals.
More Details: Splash will stand the 2004 season for $400.00 live cover. Live foals are guaranteed. Mare care is $6.00 per day, wet or dry, for mares up to 14.2 hands and $7.00 per day, wet or dry, for mares over 14.2 hands. All visiting mares are housed in box stalls and turned out daily. Pasture breeding is not available. Special consideration is given to WPCSA North Central Region-owned mares.
External Link: http://www.welshponiesgalore.com/
Horse Name: Galore's Splash Of Flash
Stud Fee: 400
Color: Bay
Stable: Ponies Galore! Welsh Hunter & Performance Ponies
Dicipline: Hunter
Dicipline: Jumper
Dicipline: Dressage
Dicipline: Halter
Sire: Liseter Royal Sparkler
Dam: Dandardel Jeanette
Grand Sire: Liseter Carnelian
Dam of Sire: Liseter Gladness
Dam Sire: Farnley Sea Urchin
Dam of Dam: Dandardel's Tango
Price: $400
Contact Seller
*This website takes no responsibility for this listing or any interactions between buyers and sellers.*