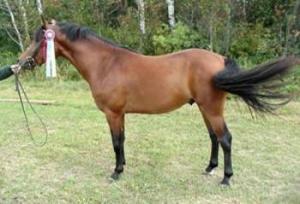 Galore's First Edition
Eddy, as his name implies, was the first pony born at Ponies Galore! I arrived at the barn just in time for him to be born in my lap. He is exactly what he was bred to be... an outstanding Hunter type pony. Eddy moves from the shoulder with lots of "push" from behind. He has a lovely bascule to his jump, not to mention a tight front end. His conformation is very good - ample bone and depth of body, great topline, an elegant neck, and an expressive face. Eddy's temperament is exceptional. This 900 pound puppy-dog still thinks he's a 90 pound foal and LOVES to "cuddle."

Eddy's first public appearance was at the 2000 Minnesota Horse Expo. He dutifully stood at his stall guard for three days demonstrating his wonderful disposition and teaching all the visitors what a "Welara" pony is. Aside from a little youthful exhuberance, he behaved very well the whole weekend. I was very proud of him and took him again in 2001 and 2003.

Eddy's first foals have arrived and are exceptional. Photos are available on our website.



Breathtaking Hunter movement!
Outstanding temperament!
Wonderful moving foals with great temperaments!
Foal Year: 1999
Results: Eddy has been very successful in the show ring. With only five shows under his belt, Eddy has earned seven championships, including two Grand Championships. He was the WPCSA Reserve Champion in Half Welsh Colt and Fillies for the North Central Region in 2000 and third in 2001 to my filly Galore's Joy N Dreams.
Eddy took the 2002 show season off to breed his first mares begin his under saddle training. I am thrilled with his progress as a riding pony.
Common Traits Passed to Foals: Eddy passes his temperament, movement and conformation on to his foals.
More Details: Eddy will stand for $400.00 live cover. Live foals are guaranteed. Mare care is $6.00 per day, wet or dry, for mares up to 14.2 hands and $7.00 per day, wet or dry, for mares over 14.2 hands. All visiting mares are housed in box stalls and are turned out daily. Pasture breeding is not available. Special consideration is given to WPCSA North Central Region-owned mares.
External Link: http://www.welshponiesgalore.com
Horse Name: Galore's First Edition
Stud Fee: 400
Color: Bay
Height: 14.1
Stable: Ponies Galore! Welsh Hunter & Performance Ponies
Dicipline: Hunter
Dicipline: Dressage
Dicipline: Equitation
Dicipline: Halter
Dicipline: Jumper
Sire: Road Warrior
Dam: Flying Colors Dark of the Moon
Grand Sire: Back Fire
Dam of Sire: Shahmah
Dam Sire: Chance's Golden Opportunity
Dam of Dam: Fauns Baby Girl
Price: $400
Contact Seller
*This website takes no responsibility for this listing or any interactions between buyers and sellers.*