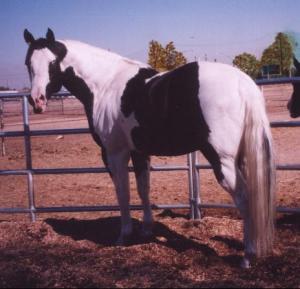 Dream On A Dream
APHA Smoky Black/White Tovero Stallion "Dream On A Dream" 16 HH, 1200 lbs, stallion's bloodlines combine Race, Performance & Halter Champions! Sires Exotic Diluted Colors Palomino, Buckskin, Grullo & Smokey Black. Nominated Sire "Arizona Paint Breeders, Inc Futurity".

Foal Year: 1997
Common Traits Passed to Foals: Dream has sired 100% color on Paint Mares & 99% on solid colored Mares, he also sires the diluted colors Buckskin, Palomino, Grullo & Smoky Black.
His foals are big and pretty with correct confirmation, and Wonderful dispositions like their sire.His oldest foals will be 3 yrs old in 2003. He has been bred to all different breeds of mares! "All Breeds of mares are Welcome" Video & Color Chart Available.
More Details: Stud Fee: $600, $150 Booking Fee included, Multiple Mare Discounts, Discounts to Proven Mares. - LCFG-Rebred for $100 handling Fee if you don't get a Colored Foal.Shipped Shipped Semen is $125 per shipment. Video Available. Payments Available on Service fees. All Breeds Welcome!! Shipped Semen Available 5 days per week, $125 per shipment, Visiting Mares Board $5 per day. Visit our web site and see more photos of Dream and his foals.www.stallionstation.com/ebonystarpaints or www.arabhorse.net/ebonystar
External Link: http://www.stallionstation.com/ebonystarpaints/
Horse Name: Dream On A Dream
Stud Fee: 600
Booking Fee: 150
Breed: Paint
Color: Black/White
Stable: Ebony Star Ranch
Dicipline: Halter
Dicipline: Other
Dicipline: Racing
Dicipline: Hunter
Dicipline: Jumper
Sire: Snowssupremedream
Dam: WC Eternal Classic
Grand Sire: Supreme Dream
Dam of Sire: Snowroan Siemon
Dam Sire: Wolf Chief
Dam of Dam: Shugo
Price: $600
Contact Seller
*This website takes no responsibility for this listing or any interactions between buyers and sellers.*