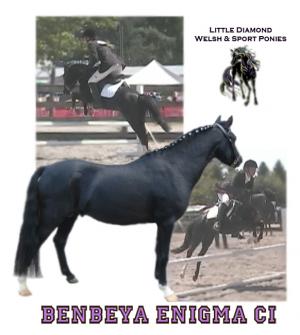 Benbeya Enigma CI
Little Diamond Welsh & Sport Ponies is proud to present Benbeya Enigma CI at Stud for 2006. Benbeya comes from a long line of top Hunter/Jumper ponies. He is a proven Sire. All his foals have received First premium with American Sport Pony Registry and can be triple registered. Benbyea has amazing temperament, elasticity, carriage, Jumping ablity and showing great form in the show ring. Breed to Ben to produce a fabulous sport pony or an all round family small horse/pony.

Triple Registered Sport Pony Stallion
True Black
Top 5 For Canada & USA for Approved Sport Pony Stallions
Excellent Bloodlines
Foal Year: 2001
Results: Rank Top 5 for Canada and USA Sport Pony Stallions.
Common Traits Passed to Foals: Excellent Conformation, Athletic, High percetage for dark bay or black foal, very easy to handle with awesome temperaments.
More Details: Live Foal Guaranteed, Shipped cooled semen (A.I. not included), Mare Care:$8/day dry, $13/day wet.
External Link: http://www.littlediamond.ca
Horse Name: Benbeya Enigma CI
Stud Fee: 500
Booking Fee: 200
Color: Black
Height: 11.3
Stable: Little Diamond Welsh & Sport Ponies
Dicipline: Childrens/4-H
Dicipline: CT/Eventing
Dicipline: Dressage
Dicipline: Driving
Dicipline: Endurance
Dicipline: Equitation
Dicipline: Foxhunting
Dicipline: Halter
Dicipline: Hunter
Dicipline: Jumper
Dicipline: Other
Dicipline: Pleasure/Trail
Sire: HOBBY HAVEN CRIMSON SUN
Dam: FREE-D-ACRES ANNIE
Grand Sire: YOUNG'S SIR SPORTSMAN
Dam of Sire: HOBBY HAVEN CINDERELLA
Dam Sire: SEVERN NORTH WIND
Dam of Dam: CAREFREE LYNDA'S GLENDA
Price: $500
Contact Seller
*This website takes no responsibility for this listing or any interactions between buyers and sellers.*