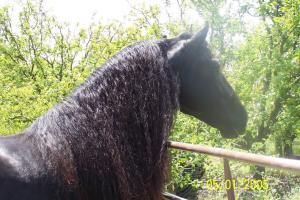 Mainwaring's Tribute To Rufus
BE ONE OF THE FIRST TO OWN HIS LEGACY!
Tribute comes from a long line of Special Shires. One of his Grand sires is the infamous Bigfoot's Rebel Without a Cause who wowed the visitors at The Draft Horse Classic in Grass Valley. They returned every year anticipating seeing him once more with his long flowing mane and distinctive personality.
The other Grand sire, Folly Farm Grey Forrester was the object of the very popular painting done by the elegant painter Jean Barrows and sire to many.
Tribute has one flashy Shire colt and one amazing Thoroshire filly on the ground and another due this spring. They both have his easy going attitude. He passes on size, wonderful conformation, large bone and color.
He is short backed, extremely supple in movement and well suited for Dressage.
This is our second year to offer Tribute's stud service to the public. His versatility and beauty are only part of his attributes.

We have taken our time and Tribute has matured into a wonderful stallion far beyond our expectations and we are proud to offer him to your special mare.



Intelligence
Conformation
Strength and Agility
Beauty
Foal Year: 1999
More Details: Live Foal Guarantee
External Link: http://www.baroquelegacies.com
Horse Name: Mainwaring's Tribute To Rufus
Stud Fee: 750
Booking Fee: 125
Color: Black
Stable: Baroque Legacies Farm
Dicipline: Dressage
Dicipline: Driving
Dicipline: Halter
Dicipline: Pleasure/Trail
Sire: RicShar Prince Zaeter
Dam: Cole's Lonesome Dove
Grand Sire: Folly Farm Grey Forrester
Dam of Sire: Newton Dainty
Dam Sire: Bigfoot's Rebel Without a Cause
Dam of Dam: Fox Valley Mascot's Beauty
Price: $750
Contact Seller
*This website takes no responsibility for this listing or any interactions between buyers and sellers.*