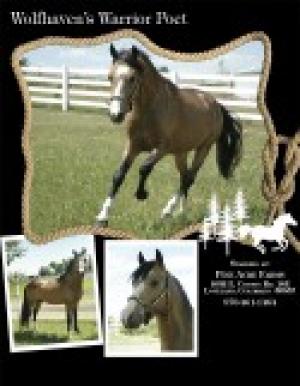 Wolfhaven's Warrior Poet
Toby(Barn name)is a sweet,easy going stallion that will add the temperment,easy to train foal you have been wanting. He is currantly under saddle/ harness and is loving it. Stands 13.2, is an 2005 model,(couldn't put in listing) excellent legs, mind, dish face. Buckskin color with the black markings to add the flair. Check him out, for your next foal.

Excellent Pedigree
Temperment is great
Sweet color combination
Super Stallion for your next mare.
Foal Year: 2002
Results: Beginning his show career this year.
More Details: Semen - Cooled, Frozen available (1st collection included in stud fee) (additional collection cost are 250.00)shipping not included.
Mare Care - 10.00 dry / 15.00 wet(fees include-stall/feed/transportation for AI
External Link: http://www.pineacrefarms.com
Horse Name: Wolfhaven's Warrior Poet
Stud Fee: 550
Booking Fee: 225
Color: Buckskin
Height: 13.2
Stable: Pine Acre Farms
Dicipline: Childrens/4-H
Dicipline: Dressage
Dicipline: Driving
Dicipline: Endurance
Dicipline: Halter
Dicipline: Hunter
Dicipline: Jumper
Dicipline: Pleasure/Trail
Sire: Tuscani Aramis
Dam: Carrick Trysor Euriad
Grand Sire: Derwen Prince Charming
Dam of Sire: Derwen Abigal
Dam Sire: Gallod Barti DDU
Dam of Dam: Bryn Carregwen Tegan
Price: $550
Contact Seller
*This website takes no responsibility for this listing or any interactions between buyers and sellers.*