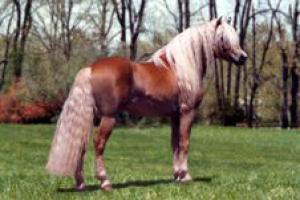 Notable NTF
59" AHR licensed and registered Haflinger stallion. Notable was imported from Germany and is branded Westfalen. His sire is Nastral of Germany, a world-class champion dressage horse. Notable shares the same sire with Nasdaq, one of the most important haflinger stallions in the USA, now deceased. Notable has excellent conformation and movement, and has cleaned up at every pleasure driving show his has entered, mostly first place. His temperament is impeccable, and his masculine beauty is jaw-dropping. He has always sired large colts, and they have proven themselves in the shows as well. All haflingers are varying shades of chestnut and do not have the palomino gene present, although most people would look at Notable as palomino. Technically, he is a very light chestnut with white mane and tail, and a lovely long blaze. He has striking almond colored eyes.

Wins every driving class when you let him do his thing!
This horse has a tgentle temperament to die for & is easily handled!
"Nobie" is an incredible-looking show stopper, with a 3-foot long mane!
Descended from champion German dressage bloodlines!
Foal Year: 1997
Results: Proven stallion with many sons and daughters who have done very well in the pleasure driving ring. Passes on large size and gentle temperament.
Common Traits Passed to Foals: Big strong foals that grow to large size. Wonderful temperament. Excellent mind. Outstanding conformation, movement and beauty.
More Details: Excellent sperm count. Live cover or A.I. Mare care is $8 per day. We can pick up and deliver. A.I. is an additional $125.
External Link: under construction
Horse Name: Notable NTF
Stud Fee: 750
Booking Fee: 250
Color: Chestnut
Height: 14.3
Stable: Prancin' Horse Ranch, LLC
Dicipline: Barrel Racing
Dicipline: Childrens/4-H
Dicipline: CT/Eventing
Dicipline: Dressage
Dicipline: Driving
Dicipline: Equitation
Dicipline: Hunter
Dicipline: Jumper
Dicipline: Pleasure/Trail
Dicipline: Reining/Cutting/Roping
Sire: Nastral
Dam: Menuett
Grand Sire: Nasal
Dam of Sire: Quirly
Dam Sire: Mithras
Dam of Dam: Melodie
Price: $750
Contact Seller
*This website takes no responsibility for this listing or any interactions between buyers and sellers.*