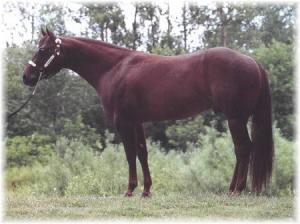 Tesigned To Tango
1997 AQHA, NFQHA Stallion Chocolate Dun. 16.0 hands, 1400 lbs.

Tesigned To Tango is by the late, great World & Congress Halter Champion Quarter horse, Tesigned. "Tease" is out of a Poco Tango Dell daughter, Sugar Dell Tango.

As a yearling, "Tease" was third at the IBHA World Show in Yearling Stallions and earned IBHA Honor Roll titles in Open Yearling Stallions and Amateur Stallions. Earner of 13 IBHA Longe Line points. In 2000 he finished his 3 year-old year with an AQHA Superior Open Halter and Amateur Halter ROM, accumulating 80 Grands & 27 Reserves along with 76 Halter Points. He qualified for the World in Open & Amateur stallions for 1999, 2000 & 2001.


Foal Year: 1997
Results: 1997 AQHA - NFQHA Stallion
AQHA Open Superior Halter
1998 IBHA Honor Roll Yearling Stallion
1998 IBHA Honor Roll Amateur Stallion
IBHA Longe Line Point Earner
1999, 2000 & 2001 AQHA World Show Qualifier in Open & Amateur Stallions
AQHA Amateur Halter ROM
55.5 Open & 20.5 Amateur
AQHA Halter Points
48 Open & 32 Amateur Grands
9 Open & 18 Amateur Reserves
2000 Top Ten AQHA Open Halter Stallion - 10th Place
2000 Top Ten AQHA High Point Junior Halter Stallion - 10th Place (As of 10/00)
More Details: 2001 Fee: $600 cooled shipped semen available
APHA Listed Eligible Breeding Stallion
External Link: http://www.jhfstable.com
Horse Name: Tesigned To Tango
Stud Fee: 1000
Booking Fee: 250
Color: Chocolate Dun
Stable: JHF Stable
Dicipline: Halter
Dicipline: Other
Sire: Tesigned
Dam: Sugar Dell Tango
Grand Sire: Design By Money
Dam of Sire: Ms Sun Te
Dam Sire: Poco Tango Dell
Dam of Dam: Mrs Ed Bar
Price: $1000
Contact Seller
*This website takes no responsibility for this listing or any interactions between buyers and sellers.*