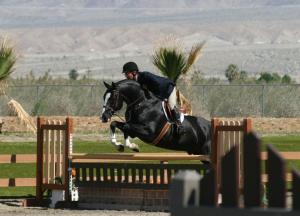 Redwine
Gorgeous black imported Hanoverian stallion. Fantastic tempermant, pretty mover and excellent jump. His first foal crop is here and the foals are spectacular. Throws mostly black and bay with chrome. Pedigree for dressage or hunters. Showing on the West Coast in hunters with John French.

Exceptional temperment, scored 10''''''''''''''''s in Germany on temperment.
Black Hanoverian with lots of chrome.
Excellent fertility, most mares pregnant on first try
Foal Year: 2000
Results: Champion hunter.
Common Traits Passed to Foals: He passes his fantastic head and neck, a wonderful temperment and excellent topline. Most foals are black or bay with chrome.
More Details: We collect 5 days a week. Day care available at 15.00 a day, or 20.00 with foal at side.
External Link: http://www.grayfoxfarms.com
Horse Name: Redwine
Stud Fee: 1000
Color: Black
Height: 16.1
Stable: Gray Fox Farm
Dicipline: Dressage
Dicipline: Equitation
Dicipline: Hunter
Sire: Rotspon
Dam: Merle
Grand Sire: Rubenstein
Dam of Sire: Antine
Dam Sire: Matcho
Price: $1000
Contact Seller
*This website takes no responsibility for this listing or any interactions between buyers and sellers.*