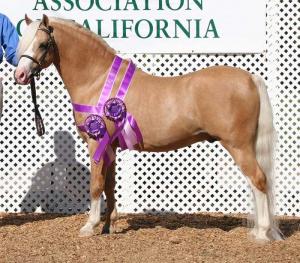 *Wedderlie Mardi Gras
***NATIONAL CHAMPION AGAIN IN 2007!!!*** When quality counts, choose Mardi Gras for the foal of a lifetime! This fabulous imported Section B Welsh stallion has already proven himself in the show ring, being crowned Champion at the Royal Welsh the largest Welsh show in the world before his importation. Since he arrived on American soil, he has been named twice US National Champion National High Score champion, along with many Regional and State Championships. His career in the show ring has seen him accumulate over 100 Championships in both halter and performance in the best of company.

He is a stellar producer, a true improvement sire, from many breeds of mares. His foals have delighted their owners all across the US with their quality, type, disposition and movement. ****SIRE OF 2008 NATIONAL CHAMPION FILLY!!!****

Also approved Weser-Ems Sport Pony Oldenburg GOV.

Excellent quality, proven, shipped semen available. All breeds welcome. All foals eligible for Half Welsh registration.

***EARLY BOOKING SPECIAL GOING ON NOW FOR A LIMITED TIME!!!***

Visit our web site for extensive photo and video galleries of Mardi Gras and his foals. www.welshponies.com

Beautiful, show quality foals available for purchase.

Imported Royal Welsh Champion
Two Time US National Champion
Sire of 2008 National Champion filly, and many other champions
Crosses well with all breeds of mares
Foal Year: 2001
Results: Royal Welsh Champion
Two Time US National Champion
Winner of more than 100 Championships in the US show ring
Sire of many Champions, including the 2008 National Champion filly
Common Traits Passed to Foals: Mardi Gras consistently passes on his unique look to his foals, improving heads, necks, hindquarters, adding bone, breathtaking movement and people oriented personalities.
More Details: Proven quality shipped semen available.
External Link: http://www.welshponies.com
Horse Name: *Wedderlie Mardi Gras
Stud Fee: 800
Booking Fee: 300
Color: Palomino
Stable: Family Partners Welsh Ponies
Dicipline: Dressage
Dicipline: Driving
Dicipline: Halter
Dicipline: Hunter
Dicipline: Pleasure/Trail
Sire: Eyarth Beau Geste
Dam: Wedderlie Marianne
Grand Sire: Boston Bentick
Dam of Sire: Eyarth Zsa Zsa
Dam Sire: Mybella Victor
Dam of Dam: Wedderlie Marina
Price: $800
Contact Seller
*This website takes no responsibility for this listing or any interactions between buyers and sellers.*