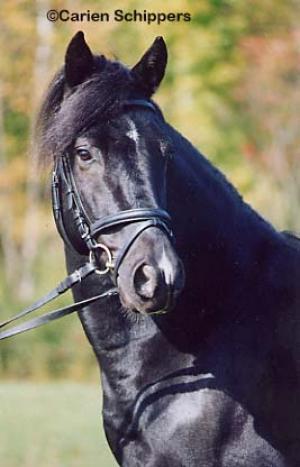 Whirlwind's Morning Star
"Teddy Bear" offers a wonderful disposition, while having a nice combination movement in his gaits. He will promote the Morgan breed well, especially in the sport horse arena and he will out cross just as well.

Please consider "Bear" for your next breeding or pass the word on to another mare owner.



Foal Year: 1997
More Details: Fee for 2002 is $1000.00* LFG (Live Foal Guaranteed)
** Booking fee 250.00
* Does not include AI collection and shipping ~150.00 per shipment
External Link: http://www.pinemeadowfarm.com
Horse Name: Whirlwind's Morning Star
Stud Fee: 1000
Booking Fee: 250
Color: Black
Height: 15.3
Stable: Pine Meadow Farm
Dicipline: Other
Sire: Amberfields Desperado
Dam: DBF Black Nightcloud
Grand Sire: Springtown Champagne
Dam of Sire: Andrews Misty Dream
Dam Sire: B-L Independence
Dam of Dam: Declarations Image
Price: $1000
Contact Seller
*This website takes no responsibility for this listing or any interactions between buyers and sellers.*