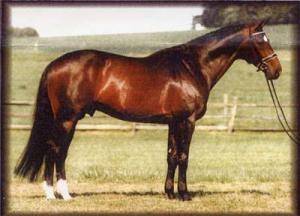 R. Johnson
Colourfields is proud to present the approved Dutch Warmblood (NRPS) stallion R.Johnson.

Competing in both dressage and jumpers, Johnson displays all the traits of a great sporthorse - powerful movement, rhythmic gaits, impeccable jumping technique, sensitivity, kindness and intelligence.

Johnson posesses a wonderful character, making him a sensitive and intelligent horse to ride and a true gentleman in the stable. It is a testament to his good nature that he has actively competed in two sports (jumpers and dressage) while being used for breeding!

He exhibits a powerful way of moving in three elastic gaits: a large, clear walk, a loose rhythmical trot and a strong ground-covering canter. See clip "Johnson in motion" or request his 2002 video by mail.

Johnson's jumping ability was described by the NRPS judges at his approval, as of potentially "international quality". He is a stunningly powerful, scopey jumper with impeccable technique and a strong desire to jump cleanly and carefully.

R. Johnson is by G. Ramiro Z , one of the most influential sires in European Sport Horse breeding. Ramiro has been called the "Stallion of the Century" recognizing the consistent excellence of his offspring. Ramiro's long career included many wins in Nations Cups, Puissance and International Grand Prix competition.

The progeny of G. Ramiro Z have distinguished themselves in both the dressage and show jumping arenas. Among the most famous G. Ramiro Z offspring is the jumping supermare Ratina Z, gold medalist in the 1992 and 1996 Olympic Games.

Johnson's dam, the keur mare Firstborn, combines the blood of the English Thoroughbred Able Albert and the superior Dutch jumping sire, Telstar (son of the legendary Nimmerdor). Able Albert is one of only a few Thoroughbreds approved in the Dutch Warmblood studbook.

Powerful movement, rhythmic gaits, impeccable jumping technique
"International quality" jumping ability
Wonderful character, a sensitive and intelligent horse to ride
By G. Ramiro Z , one of the most influential sires in European Sport Horse breeding
Foal Year: 1991
Common Traits Passed to Foals: Johnson breeds with a high degree of hereditary reliability, passing on his short, strong back, powerful hindquarters, uphill conformation, outstanding temperament and startling athleticism. R. Johnson carries on the tradition of his legendary sire, G.Ramiro Z
More Details: Johnson stands in 2002 for a fee of $1500, including a $250 booking fee.
* Multiple mare discounts are available.
* He has tested negative for EVA and is vaccinated.
* Fresh/frozen semen available.
Johnson's fertility is remarkable, evidenced by a very high conception rate. Analysis has shown his sperm to have excellent motility, morphology and longevity. His frozen semen has a post thaw progressive motilility rate of 70%.
External Link: http://www.colourfields.com
Horse Name: R. Johnson
Stud Fee: 1500
Booking Fee: 250
Color: Dark Bay
Stable: Colourfields
Dicipline: CT/Eventing
Dicipline: Dressage
Dicipline: Equitation
Dicipline: Jumper
Sire: G. Ramiro Z
Dam: Firstborn
Grand Sire: Raimond
Dam of Sire: Valine
Dam Sire: Able Albert
Dam of Dam: Belinda
Price: $1500
Contact Seller
*This website takes no responsibility for this listing or any interactions between buyers and sellers.*