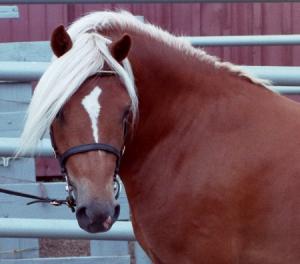 Bristol Encore
Gorgeous Section B National Champion stallion. Chestnut with flaxen mane and tail. Beautiful Welshy head, tiny ears and big eyes. Encore was
bred from all blue ribbon winners and he passes that on to his foals. He has tremendous movement and an outstanding personality. He is everything you would want in a Welsh pony.Bred from the standard.

first place winner every time shown
placed National Champion
Junior Champion (several)
Reserve Champion (several)
Foal Year: 1999
Results: first place every time shown.
National Champion. Beautiful TB/Welsh foals on the ground. Encore crosses well with other breeds
Common Traits Passed to Foals: beautiful heads, perfect conformation, smart, willoing and very trainable
More Details: cooled shipped semen available. Live cover and mare care. Live foal guarentee. multiple mare discount.
External Link: http://www.briarfairfarm.com
Horse Name: Bristol Encore
Stud Fee: 500
Booking Fee: 200
Color: Chestnut
Stable: Briarfair Farm
Dicipline: Halter
Dicipline: Equitation
Dicipline: Pleasure/Trail
Sire: Pecan Creeks Overture
Dam: Bristol Elan
Grand Sire: Cloe Olympian
Dam of Sire: CC Silver Lady
Dam Sire: Coed Coch Ballog
Dam of Dam: Lithgow Wishnik
Price: $500
Contact Seller
*This website takes no responsibility for this listing or any interactions between buyers and sellers.*