Keep your horse snuggly warm with this luxurious fleece cooler by Pessoa. Designed with a hidden elastic surcingle, tail cord and front closure to be both functional and beautiful.
Small fits a size 70".
Medium fits a size 76".
Large fits a size 82".
X-Large fits a size 88".
If your horse is between sizes, we recommend going to the next size up so you can drape it over a saddle if you need to.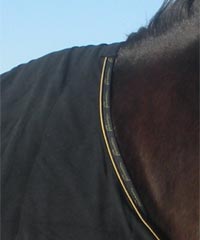 Measure your horse to find the right size.
There are 2 ways to measure your horse:
a. Chest to Tail - from the centre of the chest to the furthest rear point of the rump measuring along the side of the horse.
b. Wither to Tail - measuring straight from top of wither to top of tail.

Refer to the Universal Size Chart below to determine the right size rug/blanket based on your horse's measurement (measurement of horse is listed in cm under Euro as 'option a'/'option b' ).