Breyer Wind Dancers # 9 - A Horse's Best Friend by Sibley Miller
Puppy love abounds. If only taking care of a puppy were so easy! Four tiny horses with shiny manes and shimmery wings burst from a dandelion seed. Four magical horses who can fly! Dancing on the wind, surrounded by magical halos, they are the Wind Dancers.
Written by Sibley Miller; Illustrated by Tara Chang and Jo Gershman;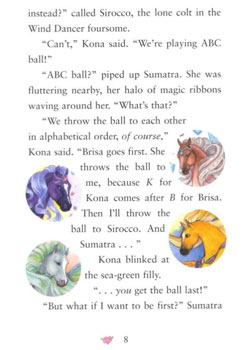 Grade Range: 1 and up Age Range: 6 and up; Chapter Book, 80 pages, Full-Color Illustrations.
Breyer Traditional Collectible: #6149
Softcover